19:44:39, 28/08/17
I just realised that I hadn't posted a TR or photos from my recent TMB walk so here goes. A full TR with photos can now be seen at my website at
brians-walks.....t-blanc.html
and a video at
https://www.youtube.com/watch?v=Yx-kcWW2-08&feature=youtu.be
I had only ever walked in the UK and decided this year that I wanted to do something abroad and the TMB ticked all of the boxes I was looking for. Although this walk is in the Alps, it was a walk and not a climb on very good easy to follow paths with good directions and on many days there were choices of routes. I walked for 10 days and apart from a scary storm walking over the Italy/Swiss border, the only rain I had was on the last day when it rained the whole of the day and I chose to descend to Chamonix and finish rather than walk through the clouds and no scenery down to Les Houches, the rest of the walk would be done it t-shirt and shorts.
Only one day would be a long day (Courmayeur to La Fouly), the rest would be under 8 hours and 11 miles including breaks. Most days would have lots of ascent but most of those days I chose to walk the higher and more scenic variant routes, taking advantage of the good weather. I lost count of the "wow" moments as I reached Col's and summits and new scenery opened out before me, photos and videos just don't do it justice, you really have to see it with your own eyes.
Mont Blanc, with the entrance to the Mont Blanc tunnel down below it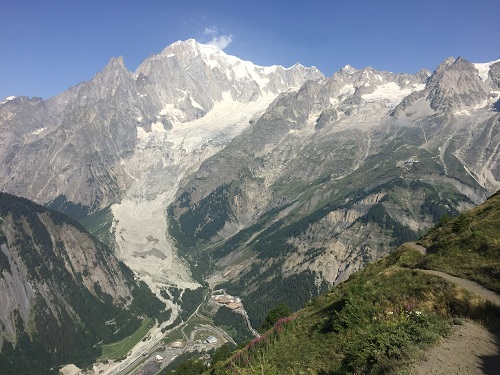 There were lots I enjoyed on the TMB. Not just the scenery but also the wildflowers and the colourful butterflies that would be seen most days and the picturesque towns and villages that I would pass through and the sound of the cow bells. If you have ever thought about doing a long distance walk outside of the UK, I can certainly recommend the TMB. Although you are up high at times, you also start high up so the ascent/descent each day was similar to days in the lake District fells, just a bit more strenuous but the views help to take your mind off it. Everyone at the shops and accommodation along the TMB spoke good English which was a relief to me
Because most of my days were quite short it was nice to finish early and sit with a beer and take in the fantastic views before me.
Enjoying a well deserved beer outside the Refuge de la Croix du Bonhomme, altitude 8015ft/2443m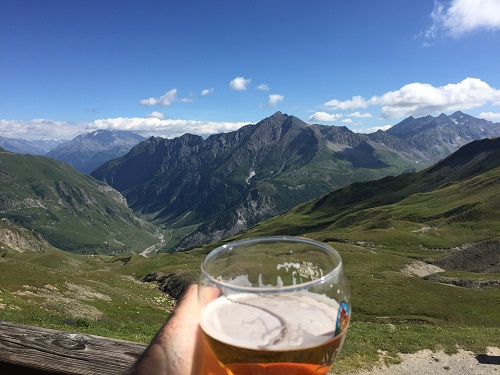 Here are just a few of my photos, the rest and video can be seen by going to the links at the top of this post.